Authentically Chinese
Food is life. Without food, one cannot receive the nourishment needed to survive. But does that mean one should just robotically shovel edible items into one's mouth? Humans have a wonderful sense known as taste. It can either encourage or discourage the consumption of certain foods. Therefore, as a person of Chinese descent who was raised on my mom's amazing cooking, I would like to introduce you to a whole new world: authentic Chinese food.
As foods from certain cultures travel to America, they become Americanized to fit the general public's taste to create the greatest profit possible. There's nothing wrong with that, except the fact that most American Chinese restaurants offer dishes that are often absolutely disgusting. Well, maybe it's not that bad. But at times, they add too much soy sauce or add barely anything at all, leading to a very unsatisfying experience. The few decent Chinese restaurants stand out.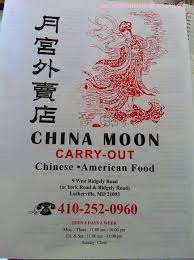 The first Chinese restaurant that I would like to mention is China Moon. China Moon is a small restaurant run by a talkative Chinese lady (whose name I don't know because it's customary for Chinese people to refer to shop owners as "老板," "Lǎobǎn," or boss). Orders can take a long time (ranging from around 1-3 hours) because everything is made from scratch by very few staff members, so you might want to call in ahead of time before you order. Take a look at their menu and choose the items you'd like to try as well as the size. Then, dial the phone number on their paper menu (you should always keep this on hand for convenience). If you ever decide to order from this shop, you must absolutely get their handmade Lo Mein. It is freshly made and delicious, with containers stuffed to the brim. The owner offers generous helpings of each dish, so keep that in mind when you're ordering. You're always sure to get your money's worth though it might take some time.
The other restaurant that I would recommend is Towson Best. Though slightly pricey, their food is stable and consistent in quality. Perhaps it may not be the most sublime or the most outstanding, but it will always be decent and timely. My personal favorite is their crispy eggplants paired with piping hot rice. The sweetness of the eggplants is complemented by the aromatic grains (rice cooked in large pots always seems to taste better for some reason). If you want to wash it all down, try their classic sour & spicy soup. The strong taste of black vinegar (and no, it's not like that disgusting white vinegar used for cleaning tables) heightens the rest of the ingredients. A word of caution, however, it appears that there are plenty of negative reviews commenting on terrible customer service and the quality of their meat dishes. As such, I would suggest using the amazing tool known as online ordering and pick-up. 
Overall, there are very few truly outstanding Chinese restaurants, which is why my family typically cooks our own food. Perhaps ordering out (we have never eaten out since Covid-19) can be refreshing at times, but it can be overwhelming if done too often.