Knit to Save the World: Plastic Bag Drive
The world of fiber arts exploded after the pandemic forced us to consider smaller lives, a quiet rebellion from the omnipresent capitalist slogan of more, more, more. From crochet tote bags to knitted sweaters, teens everywhere embrace creation — on the same social media platforms that operate under excessive consumerism. (The hashtags #crochet and #knitting currently have a combined 9.2 billion views on TikTok, the same app where videos under #shein and #sheinhaul have been viewed 34 billion times.) Making your own clothes is now hailed by users as a way to participate in fashion trends without contributing to landfills and exploitation.
But even handmade crafts can have a negative effect on the environment. Fabric dying and treatment account for around 20 percent of water pollution. Washing synthetic fabrics releases 500,000 tons of microplastics into the ocean annually. The textile industry's abysmal pay and human rights abuses exploits workers. While people learned to create using yarn, they neglected to understand the process in which that yarn is manufactured. The brunt of this oversight, of course, is felt by marginalized people and the environment.
There are still ways to minimize harm while continuing to create the things you love. Upcycling, defined by Knitting Club co-president Rachel Glen as "when you take a piece of clothing that already exists and reuse the materials to create something new," is a popular and easy solution. Instead of buying new textiles, you can rip into old clothes to harvest the yarn or fabric for new projects.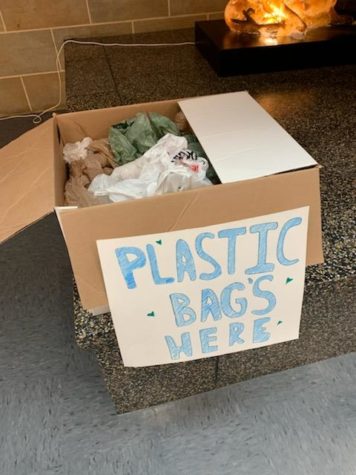 You can also make clothes out of alternative forms of yarn. Plarn, or plastic bag yarn, is a simple way to make use of the plastic bags strewn about your home and reduce waste in both the textile and plastic industries. To promote this eco-friendly solution, Carver's Knitting Club is hosting a plastic bag drive. Everyone is encouraged to donate by placing clean, dry plastic bags in a box in the Commons. An infographic on the kinds of bags accepted can be found here.
Plarn can be used to make reinforced bags with similar durability to cotton tote bags — without using nearly as much water. The material can also be fashioned into sleeping mats for unhoused people, something the club hopes to incorporate into its activism.
With our global future in mind, we should act in our local communities to combat the climate crisis in any way we can. For information about the Carver Center Knitting Club Plastic Bag Drive, contact co-presidents Jillian Tamayo (@jilliantamayo) and Rachel Glen (@rachel.glen.75) via Instagram or in person.