Karma is a Pop Album: 'Midnights' Review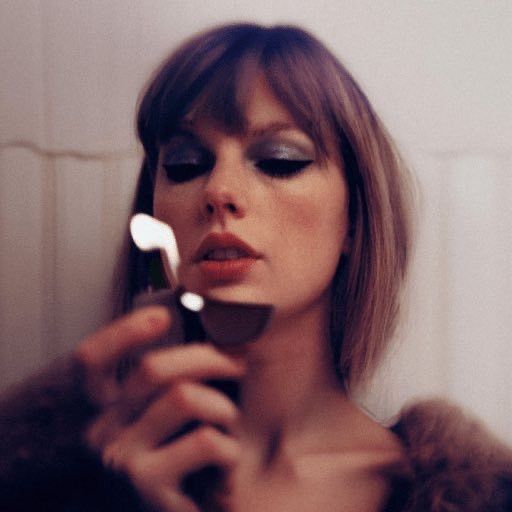 Stepping back from the re-recordings that have begun to define her career, singer-songwriter Taylor Swift released her 10th studio album, Midnights. With it comes 13 unheard new songs inspired by sleepless nights throughout her life that form a complete concept album. 
Lavender Haze
The opening track of Midnights is a bouncy, tightly-produced pop song that pulls the audience out of forests of folklore and evermore and back into the pop synths of 1989. It's upbeat, catchy, and sure to be a stadium favorite on her upcoming tour. At its core, Lavender Haze is a love song. Likening the hazy feeling of comfortable love to a lavender haze, Swift's personal tribute to a partner feels like a continuation of the Lover ballads. 
Maroon
So much of the praise for Taylor Swift's songwriting is directed at her storytelling techniques, and Maroon is no different. Her verses are vivid —  incense on a vinyl shelf, a roommate's cheap-ass rosé, standing hollow-eyed in a hallway, carnations mistaken for roses — and transport the listener to an ill-fated love affair. The chorus takes us on a journey of symbolism; Swift traces the relationship in a somber shade of maroon — a clear allusion to her 2012 title track, Red. Time forces reflection; a love that was once a playful bright red slowly becomes an austere maroon. 
Anti-Hero
As modern feminism paves the way for complex female characters in movies and TV, women everywhere grapple with the fact that their negative personality traits don't negate their positive self worth. In Anti-Hero, Taylor Swift re-introduces herself to her loyal audience: "It's me, hi / I'm the problem; it's me." Accompanied by a music video, Anti-Hero explores Swift's deepest imperfections, anxieties, and nightmares — in a voice so raw that some lines come out unpolished. ("Pierced through the heart, but never killed" and "Sometimes I feel like everybody is a sexy baby" are two lines in the same verse.)
Snow On The Beach (feat. Lana Del Rey)
During her Billboard Music Woman of The Decade acceptance speech, Swift gushed over contemporary Lana Del Rey, calling her "the most influential artist in pop". Their vocals layer together beautifully in Snow On The Beach, but Del Rey superfans will be disappointed that she only gets very few solo lines. Together, the pair delicately narrate simple moments with a lover in a slow intensity folklore and evermore fans will surely appreciate.
You're On Your Own, Kid
"Track fives," nicknamed by Swifties, are known to be the most emotional and personal songs on any given Swift album. You're On Your Own, Kid tells a familiar unrequited love story in the form of a coming-of-age epic. The first line, "Summer went away, still, the yearning stays," calls back to highschool romances and Swift's own self-titled debut album. Insecurity plagues Swift as she wanders into adulthood and fame, and the instrumentals and vocals grow frenzied as her existential anxiety heightens. Nearing the end of the bridge, resolution finally emerges: "Everything you lose is a step you take / So, make the friendship bracelets, take the moment and taste it / You've got no reason to be afraid." — solid advice for any struggling young person.
Midnight Rain
In Midnight Rain, Taylor Swift casts herself as a city-minded girl in a small town, starring opposite a genuinely sweet boy. In typical Hallmark movie fashion, our city girl can't help but hurt our small-town boy: "I broke his heart 'cause he was nice." The incompatibility of the couple's lives is underscored by scattered EDM-style warps juxtaposed by storytelling techniques borrowed from country artists.
Question…?
Unlike its ambiguous title, the purpose of Question…? on Midnights is clear: reliving a the-one-that-got-away romance. The choices of an ex-lover are put under the maroon lamp of scrutiny — "Did you leave her house in the middle of the night? Did you wish you'd put up more of a fight?" — to find the cause of a breakup. Swift's lack of romanticizing imagery highlights the real tragedy of most relationships: the little things. There's no big fight; just miscommunications, circumstances, situations, politics, and gender roles.
Vigilante Sh*t
In case anyone forgot her career-defining Reputation era, Vigilante Sh*t is here to remind the audience that the old Taylor still can't come to the phone. This track details a revenge fantasy that is becoming a common motif in her post-Look What You Made Me Do discography. In it, she steals the wife and reports the "white-collar crimes" of her object of revenge over reverberating synyths.
Bejeweled
In folklore's mirrorball, Swift is a glittering disco ball, forced to perform for outsiders. In Bejeweled, Swift rediscovers her love for presentation in the face of an ungrateful partner. It's the perfect post-breakup song: buoyant and fun, even if it doesn't offer much lyric-wise.
Labyrinth
Early in her career, the media portrayed Swift as a boy-obsessed girl who just can't seem to make a relationship work. In Labyrinth, Swift shares the inner turmoil that falling in love ignites in her: "Uh oh, I'm falling in love / Oh no, I'm falling in love again." The production of this airy track is reminiscent of folklore's epiphany and guides the listener through her romantic psyche. Gorgeous and layered, Labyrinth is sure to be an underrated classic for years to come.
Karma
What goes around comes around. Swift's public fascination with karma predates the Reputation era with her 2010 pop rock Better Than Revenge. After rumors circulated about a scrapped concept album of the same name, Swift assures her fans that Karma is real — in the form of a glossy pop song. In the track, revenge takes different shapes than previously outlined in her career. The aftermath of her feuds transforms karma into a boyfriend, a god, the breeze, "a relaxing thought," and even a cat. To Carver senior and mega-Swiftie Rachel Glen, "Karma is a song that makes you feel like the main character and that everyone who's ever wronged you is going to realize how they messed up." How's that for payback?
Sweet Nothings
A jarring transition from Karma, Sweet Nothings is an underproduced dedication to the small parts of a relationship. "Love can be a pushy-shovey experience," 12th grader and pop music lover James Roberson explains, "and yet the things she cherishes about love are the simple ones. Pebbles she's picked up with her lover, humming in the kitchen, or just a compliment on the car ride home." 
Mastermind
In true Taylor fashion, nothing about the Midnights experience was coincidental. Since Lover, her fans anticipate hints and "Easter eggs" nodding at new music and merch drops. In Mastermind, Swift reveals that this calculated strategy applies to her love life, warning, "If you fail to plan, you plan to fail / Strategy sets the scene for the tale." The concepts of fate and free will dominate the lyrics of this stunning closing track.