The "Pinterestification" of Reading
Reading is cool, but reading is cool… now? 
 Have you ever wanted to make mundane moments of your life, such as eating lunch at a park or waiting for the bus more… cinematic? Have you ever wanted to exhume "main character energy?" On TikTok, Pinterest, and Instagram, there's always a myriad of posts that tell you to romanticize your life. You must be the main protagonist of your life! If your life doesn't have spice, is it a life worth living? Life is full of joy, life is… aesthetic. Life is anything that will eventually be in some teen's Pinterest folder, titled "teenage dirtbag," "autumn,"or "i wish this were me fr." As long as you can post a story of yourself doing an activity, surrounded by Lo-fi music and a soft pink filter with sparkles, you're the main character. You're romanticizing your life. You can romanticize anything and think to yourself "my life is just like a movie" while doing anything, even reading. If there's any hobby you like, there's an aesthetic for it, trust me.  
During quarantine, people found a sense of community through engaging in different hobbies. Prior to COVID, you could always find your friends, family, or celebrities posting pictures of themselves going to new places, trying new foods, browsing art galleries. When everything closed down, that didn't calm the urge for people to find things to do "for the gram." Instead of going out, everybody and their mother made dalgona coffee and baked cute frog breads.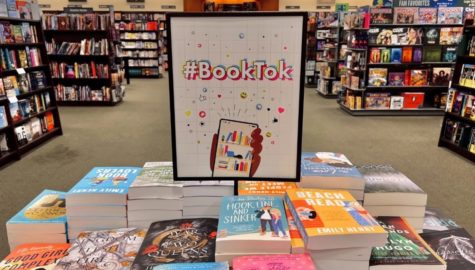 Booktok, which originally started out as a niche community where readers could feature and discuss books, exploded in popularity during 2020 and continues to an active community. It's so popular, if you ever walk into a bookstore now, there's probably a "booktok made me buy it section," dedicated to books that made fellow "booktokers" cry, scream, or even toss their copy of a book across their room as they went through an emotional rollercoaster (I don't blame them. When I read something and I'm emotionally-invested, I do the same thing). Throughout this "boom" of young readers, there was also an upsurge of people making posts on instagram and reddit asking questions such as "I don't like reading, but I want to get into it. What should I do?" or "how do I force myself to read?" Many people discuss the idea of reading in online communities. Who doesn't love the intimacy of opening up fresh page? Or the enigmatic nature of wandering around a bookstore? The feeling of reading with a hot latte in a cute, floral-patterned ceramic cup? There are even communities dedicated to creating "aesthetically pleasing" bookshelves. Often, bookshelf communities focus on the appeal of having a bookshelf, whether the books are color-coded or the shelf is made of red mahogany. A lot of people in the bookshelf community read as a hobby, but there are some people who buy books off of Etsy or thrift used books with the sole purpose of displaying them. If you have a favorite celebrity, they probably have a favorite book list published by Vogue. 
A lot of celebrities are avid readers. But now everybody, from Dwayne the Rock Johnson to Kylie Jenner, has a favorite book list published on Vogue with a cover of them posing with a book in hand. 
After being seen as the thing only nerds enjoy for a long time, it's nice to see reading become popular for a change. But with popularity comes commercialization. And if it's a hobby: aestheticization.