Eggs On Ice Playing This Week!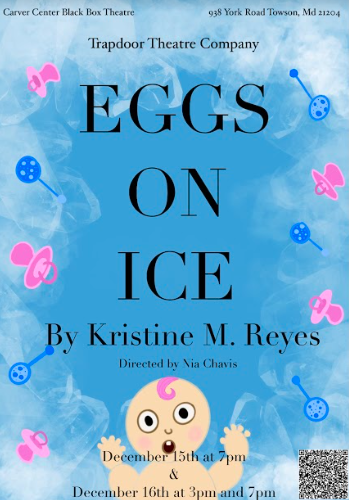 The completely student-run theatre company, Trapdoor, will  begin their 11th season with the show Eggs On Ice by Kristine M. Reyes. Directed by Senior Nia Chavis, '23 the play will open its doors December 15th at 7pm with two additional shows on December 16th at 3pm and 7pm.
The production follows Denise, the head of marketing at an egg freezing clinic, as she slowly uncovers the more sinister side of her boss, Dr. Freeze, and his true goals behind the company. While the play follows very serious topics, the satirical undertone of the show allows for a much more comedic experience. 
Working hard in rehearsal everyday, the cast and crew of Eggs On Ice are thrilled to put on the show for the Carver Center community. Since Trapdoor Theatre Company is run solely by upperclassmen, it is several of the actors' first time in a Trapdoor show. "I'm excited because this is my first Trapdoor show and we've been putting in a lot of hard work, so I'm very excited to see the outcome", said Lily Porter, '24 who plays Omega in the show. The other actors of the show feel the exact same, with high anticipation for opening night. 
Eggs on Ice explores many important themes such as women's rights, reproductive rights, and more. When asked why the director wanted to put on the show, Chavis responded by stating, "because it is very relevant to our world today, especially with the overturning of Roe v. Wade, and the happiness and unity that can come from such a heavy story."
This reporter is also a member of the cast, playing the evil doctor, Dr. Freeze, and this is my very first year in Trapdoor as well! It has been a unique experience collaborating with only my classmates to put on an entire production. I have truly been able to witness how a play is put on from start to finish, both in front of and behind the scenes. We have all been working super hard, and I am ecstatic for everyone to see the outcome!
Follow Trapdoor Theatre Company on Instagram @trapdoortheatrecompany and make sure to buy your tickets now!:
https://osp.osmsinc.com/BaltimoreCountyMD/BVModules/CategoryTemplates/Detailed%20List%20with%20Properties/Category.aspx?categoryid=EI471