The Notorious RBG
Recently the world suffered a tragic loss, when Supreme Court Justice Ruth Bader Ginsburg passed away on September 18, 2020. At the age of 87 years old. Ginsburg was a powerful influence on women's rights and equality. The Harvard Gazette called her "A civil rights hero," after her death.  
However, her journey to becoming a civil rights hero was not easy. During law school Ginsburg and the other women students were asked by the Dean of the law school to explain why they deserved a spot in the school over men. During law school her husband was diagnosed with cancer, so Ruth attended her classes, and attended his. She also typed his papers for him, and while doing so she had a child. With all these responsibilities she still managed to land a seat on the Harvard Law Review.                                                                                                                                                 
Ruth Bader Ginsburg faced a lot of challenges, but that was just one part of her life. In her early life, Ruth Bader Ginsburg was born on March 15, 1933, in Brooklyn, New York. Ruth Bader Ginsburg grew up in a Jewish family and was always very involved in school. After graduating high school, she went on to attend Cornell University on a full scholarship. Then Ruth and her husband moved to Massachusetts. Ruth got into Harvard Law and began her studies there. Ruth and her husband moved again this time to New York where she went to Columbia to finish her legal education.  
When Ginsburg finished her academic studies, she began to look for a job. "Despite that stellar academic record, Ginsburg had issues finding a job. Many law firms had signs for applicants that read, Men Only. Her Jewish background also didn't help," says news website Business Insider. Even with all of her hard work she still couldn't find employment. Ginsburg eventually found a job clerking for a federal district judge, but even then, she had to persuade the judge to hire her. After working for the judge, she returned to Columbia to help with a law project in Sweden. She stumbled upon a statement from a Swedish feminist that said, "men and women had one main role: being people," that inspired her to start the journey for equality.  
Ginsburg wanted a change, but most of all she wanted gender equality. Ginsburg furthered her career by teaching at Rutgers Law School and was then hired to teach at Columbia. Ruth Bader Ginsburg litigated sex discrimination cases for the American Civil Liberties Union (ACLU) and was very influential in the creation of its Women's Rights Project in 1973.  She served as its general counsel and later on its National Board of Directors.  Eventually, in 1980, she was recognized beyond being a legal practitioner when she was appointed to the United States Court of Appeals for the District of Columbia by President Jimmy Carter.  At this point, Justice Ginsburg was overcoming the challenges she had faced in the beginning.  In 1993, she was further recognized when President Bill Clinton nominated her to the United States Supreme Court.  She began her tenure as a Supreme Court Justice that same year.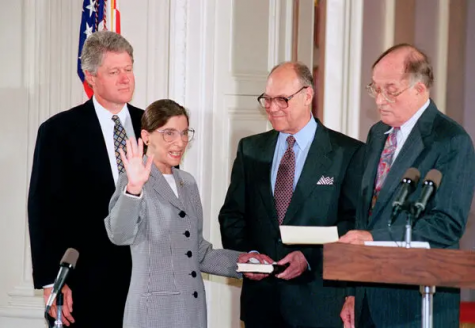 Ruth Bader Ginsburg made many notable decisions while she was on the Supreme Court. One of her major decisions written in 1996, when she explained that the Virginia Military Institute should open their doors to women. The Virginia Military Institute admissions policy explained that women would not be accepted into the Institute. Ruth Bader Ginsburg argued against that case. Ginsburg expressed that people at VMI could learn from their women classmates and explained how much good she thought women could do there. In another famous case, the Lilly Ledbetter case, which dealt with inequality between men and women at work, Ginsburg wrote a sharp, critical dissent regarding the realities that women face in the workplace, where they are often paid less than male employees doing similar jobs.  Ginsburg was not in the majority in the Ledbetter case, but her dissent, read from the bench, is renowned. 
Ruth Bader Ginsburg also influenced a lot of the outcomes on cases. For example, she worked on the Shelby v. Holder case in 2013. In the Shelby v. Holder case, the majority struck down an important provision of the voting rights act. The provision that was struck down allowed for oversight of the voting process in parts of the country that had a history of discrimination against minority voters. Ginsburg wrote the dissenting opinion. While Justice Ginsburg was not in the majority in her dissent, illustrated her position that voting discrimination still posed a serious threat to our democracy.  
Ruth Ginsburg left a major influence on everyone. She was a strong and independent woman who wasn't afraid to fight for what she believed in. Her fellow Justices had a lot to say about the impact she left on the court. Chief Justice John Roberts stated that "Today we mourn, but with confidence that future generations will remember Ruth Bader Ginsburg as we knew her — a tireless and resolute champion of justice." Fellow Justice Sonia Sotomayor expressed her thoughts about the passing of her colleague by saying "She spent her life fighting for the equality of all people, and she was a path breaking champion of women's rights." Another Fellow Justice Elena Kagan stated "To me, as to countless others, Ruth Bader Ginsburg was a hero. As an attorney, she led the fight to grant women equal rights under the law." Her legacy will live on and always be remembered as the powerful supreme court justice who never stopped fighting for equality.