The Virginia Justice System: Racism, Covid, & Neglect
"Inmates and staff members, were saying I would die."
Richard Williams is an inmate at Deerfield Correctional Center, a state prison for men located in Capron, Southampton County, Virginia. The corrections center has made news headlines the past few months with their very own Covid 19 outbreak. Williams has been in this facility since 2015 and with an 18-year sentence, he is fighting for his life and for his freedom.
On August 19th, 2015 Williams was unarmed when he robbed a local chocolate store in Fredericksburg, Virginia. No one was harmed in the incident and after a testimony by the only employee working at the shop Judge Gordan F. Willis slammed Williams with a heavy sentence. However, there is a conflict of interest between the Judge and this case. Williams explains that his attorney "laughed and told me I was fucked, not only was I seen as a heroin addict junkie but, the trial judge, his wife, and kids all have shopped in the candy store I robbed. They live in walking distance, attended church across the street from the candy store and the circuit court is in walking distance, the trial prosecutor office is located next to the candy store on the same street."  That same year that same judge sentenced three white men (around the same age as Williams) with less time for separate crimes. "The first man was a repeated offender and convicted for a serial burglar with six years, the second was given nine years for robbery, malicious wounding, burglary, and his 3rd probation violation, and the third man was given seven years but he spent two years prior in drug court. The third man robbed a bank but all three of them committed their crimes around the same location as mine."  Judge Willis then told Williams "I'm not going to allow you to prey on our community Mr. Williams and this is the first someone of your nature of age that's been before the court on these types of charges"
I asked Williams did he feel there was discrimination based on his race and drug habits from the judge. His was response was. "I have my transcripts, judges in Virginia treat minorities and poor whites like wild animals using a bias pre-sentencing report that profiles defendants awaiting trial family members, criminal history, education, employment, housing, family members are not on trial classical profiling, attorneys know this, I've written countless letters to politicians, attorneys, ACLU (The American Civil Liberties Union), law schools, anyone that can help me challenge this in court or bring social media attention. The judge commented on my age and a gang of judges purposefully denied all appeals, knowing I haven't received a fair trial."
Williams, an advocate for the education system and wishes there were more real-life aspects to schooling. "Addiction must be taught better in grade schools. Heroin/ all drugs, violence, prosecution, the homeless, death, prison. It should all be taught or taught better. I've seen white kids shooting up heroin at 12 years old, an attorney, a pastor, middle-class people, Harvard law students, CEOs, countless professionals. I've used with them all. Drugs don't discriminate."
Williams has spent the past six years at Deerfield Correctional Center writing Law & Order inspired stories, befriending inmates of different cultural backgrounds, and communicating with family. But September of 2020 is when all hell broke loose. Williams spent his 52nd birthday in pain, he was one of the inmates that contracted the Covid 19 virus. William's facility has pards that are similar to dormitories. There are rows of bunk beds with lockers in between. There is no privacy for the ninety-six prisoners who have to shower and use the bathroom out in the open.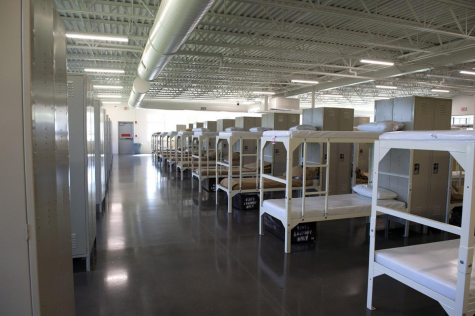 "Covid speared like a wildfire within days. Once we were infected by the guards, we started to infected each other. But once the prison identified infected inmates, they still left them in pards for days which is how I became so sick for a month it took another month to recover from Covid – 19. I stayed soaked and wet, dehydrated, I had a high fever of over 100, I had pain in my lungs, back, thighs, I was too weak to walk, I had low oxygen. It was hard to breathe but refused to go to the hospital, too many inmates weren't returning or were returning wearing oxygen tanks or died. I was afraid and didn't trust anyone. I talk to God, asking him not to let me die like a caged ape and I needed to right my wrongs. I read Psalms 91, the whole verse. Later I found out the other inmates and staff members were saying I would die, praise God I didn't they then called me a tough old man"
He continued "The Deerfield correctional prison in Virginia was featured on world news and local news due to 700 plus inmates getting Covid-19 and 20 died including 4 from my pard. One was my bunkie, aka bunkmate, [he] slept underneath me. This all started from prison guards infecting the inmates. Now, most of the inmates here have pre-existing medical conditions from cancer to loosening legs including me, I have Hepatitis C, once Covid hit they stopped giving me the medications I needed for my health condition."
I asked Williams to go into detail on how the prison chose to give treatment to the inmates he answered with "Pedaylite, twice a day. The nurse brings inmates their medicine to the building since Covid 19, we're on lockdown we can't go over to the medicine window or eat in the cafeteria, everything is on lockdown. That day I was soaked and wet and could barely walk, I fell down twice. Earlier the medicine line was extremely long they called me to the front of the line the nurse quickly gave me Pedialyte and said 'you have to stay hydrated now', she told me this after seeing me like this for about two weeks, still soaked and wet. They monitored my temperature and oxygen daily and gave me Gatorade and Tang orange juice, all day I was in too much pain to eat. Other inmates brought me my trays to my bed but, I could only eat the fruit." Williams has since recovered but he still lives with the aftereffects of high thyroid levels, constant pain, and difficulty breathing, he has to gasp for air often. He also gets his blood tested every few weeks to check his thyroid levels.
Prison systems have a history of mistreatment, especially during pandemics. When the 1918 flu pandemics hit a San Quentin California prison, inmates were being infected day by day and cases grew rapidly. Medical facilities were overcrowded so prisoners were forced to stay out in the open instead of staying in their cells. This caused more and more inmates to be infected and without the correct medical treatment. At the Philadelphia Eastern State Penitentiary Warden Robert McKenty forced a lockdown. Prisoners could no longer receive visitors from their loved ones and were told to get "plenty of sleep, plenty of fresh air, [and] plenty of exercise." Those who contracted the flu were sent to isolation and officers had to scrub cells, they then got sick as well. There have been procedures for inmates or officers to stay safe both the Influenza and Corona Virus pandemics have been too much to handle for facilities, higher-ups have a hard time keeping everyone safe which results in deadly consequences.
With newfound media attention, the correctional facility now has pressure to properly confront the outbreak. The prison had gone on lockdown once the news and ACLU got involved due to too many deaths. Inmate's family members have sued and spoke to many news outlets. The prison now tries to keep all Covid 19 sick inmates together. The lockdown has been slightly lifted, allowing some inmates to cook the food and work around the prison. Williams explains "The guards were doing all the work in the prison, they hated it. Remember it's the prisoners that do are the work for 27 cents hourly which is $20 monthly. There is now a push for the early release of inmates who have nonviolent crimes. My released date is still 2031. Those white guys that were sentenced with me, were just released from prison for the same crimes. We were arrested together and featured in the Fredericksburg Virginia newspaper, the freelance star in 2015." He concluded with "Prison doesn't care about inmates getting sick or dying. The nurses, warden, they refused to do anything they lied on T.V talking about helping inmates they lied, the governor lied, also."
Richard Williams has been continuing to fight for his freedom, although he has had battles with addiction and is behind bars, he is still human and he still deserves human rights. He watched the same men of harsher crimes that he was sentenced to leave prison while he is left behind to rot just because of the color of his skin. No human deserves this, not based on their skin color, their bad habits, or life choices. Williams has remained optimistic and wants to finally be free, he has a one-year-old grandson and six-year-old granddaughter along with a son that is a CEO of his own trucking business, they are ready to embrace him with open arms and a warm, loving home. Once he is released, he plans on helping his son with his business as well as developing his own phone app for inmates, a clothing line of comfort wear, continue learning Russian to become a translator, and pursuing his passion for writing. "I have the Law & Order writer's room address, I am going to start writing them again, in 2003 I wrote Dick Wolf he tried to pay me 500 bucks for a story I wrote, I didn't take it. I like to write about the dark side of life. I want to write about powerful racist, murders, politicians, crooks like the judges, prosecutors, attorneys that are getting rich off our backs. At 52 years old Richard still has hope and just wants to right his wrongs. For years now we have been trying to get him an early release for this miscarriage of justice. We ask that you please share this story, get it out on social media, send it to reporters, please help us fight for his freedom. He is more than a statistic or an inmate identification number, he is human, he deserves his life back.
Leave a Comment