Sony Pictures and the Importance of Diversity in Animation
Why Miles Morales and Katie Mitchell Rock
Animated movies are one of the first forms of media children are exposed to. Their bright colors and fun soundtracks are coupled with important life lessons that kids carry forever. However, many children don't see people that look like them in cartoons, and if they do, they're often portrayed negatively or incompletely. The vast majority of media is overwhelmingly straight, white, and male. The largest American animation studios, Disney, Pixar, and Warner Bros. have long dominated the children's animation sphere, with Sony Pictures Animation falling behind at both the critic's corner and the box office. Praise for Sony Pictures is mostly directed to two of their highest rated movies, Spider-Man: Into the Spider-Verse and The Mitchells vs. The Machines – both of which feature diverse leads.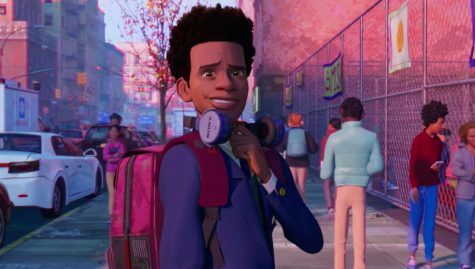 Trailing just behind Toy Story 4, Spider-Man: Into the Spider-Verse is #2 on Rotten Tomatoes' Top 100 Animation Movies list. The main character, Miles Morales is a Black teenage boy living in Brooklyn attending a prestigious STEM school on an academic scholarship. Miles is reluctant to attend Brooklyn Visions Academy because he was much more popular at his old school with the neighborhood kids. In his community, he is surrounded almost entirely by other kids that look like him. His new school, however, has a significant white population. And while Brooklyn Visions is by no means homogenous, there is a noticeable socioeconomic culture shock that Miles must withstand.
The attention to detail in Into the Spider-Verse is especially admirable. Miles' character design is incredibly comprehensive, from his clothes to the way he speaks. He listens to Swae Lee in his headphones before putting on his Nikes under his school uniform. Because Miles is Afro-Latino, he speaks both Spanish and AAVE (African-American Vernacular English) to his neighborhood friends. Even his community is well-developed, the animators working tirelessly to ensure that Brooklyn's multiculturalism is highlighted by depicting the diverse people and places. On the ride to school, Miles' father comments on the gentrification of the city by pointing out "another new coffee shop" replacing vibrant community establishments.  The New York Times writes, "Miles makes it clear that his neighborhood matters," but the same can be said of the team behind the movie making it clear that Brooklyn matters. Many Marvel fans compare the representation of Black people in the movie to that of Black Panther. Both movies are some of the only mainstream examples of Black superheroes, and both represent their regions thoroughly. If Black Panther created a beautiful world out of West African lore, Spider-Man: Into the Spider-Verse dared to fully represent a world that was already there.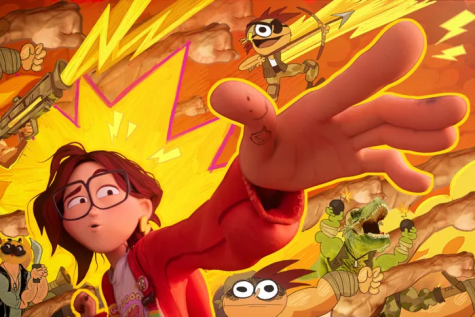 The Mitchells vs. The Machines only began streaming on Netflix last month and has already garnered both critical and audience acclaim for its unique animation style and realistic family dynamic. Its protagonist is Katie Mitchell, an incoming freshman at the California College of Film. She is imaginative and optimistic, but often feels that she never "fit in" with her peers – which is why she's so excited to meet "her people" in college. She admits that "it took [her] a while to figure [herself] out" in a montage of a younger Katie trying out different aesthetics and outfits until she settled on the one that felt right – ripped jeans and a red hoodie decorated with a gay pride pin, among others. Although Katie isn't Netflix Kids' first lesbian heroine (She-Ra and the Princesses of Power ended its run this time last year), she is Sony Pictures' first queer protagonist. Katie and her family fight a machine uprising but her jacket never comes off – a quiet reminder of her identity.
Katie's passion for filmmaking is best illustrated in the "easter eggs" aimed at older audiences. Her film school application video showcases Mount Rushmore, except with directors Katie admires rather than past US presidents. Among the carved granite figures are Greta Gerwig (read more here) and Céline Sciamma, Katie's favorite director. Sciamma is best known for her award-winning lesbian period drama, Portrait of a Lady on Fire, which Katie spoofed in one of her 84 "finest short films" as Portrait of an Idiot on Fire. Some of her other shorts include parodies of Thelma & Louise and Perks of Being a Wallflower, as well as a promposal to a Chloe Chiang. Much like Into the Spider-Verse, the small details in The Mitchells create a comprehensive identity for our main character.
Every child deserves to see themselves represented on screen. Whether it be young children struggling with their racial or sexual identity, or older people looking for relatable characters, audiences want to see someone different on the big screen. Diversity in media affirms that their distinct perspectives and backgrounds matter.
Leave a Comment
About the Contributor
Khadijah Olufayo, Editor-in-Chief
Khadijah Olufayo is a senior at Carver Center, specializing in Computer Science and Interactive Media. She contributes political and entertainment pieces...