Wintertivities!
With all the stress, chaos, and unpredictability of this school year, it's nice nice to have some down time to recenter ourselves. Winter tends to bring an abundance of snow days and I plan on giving you some exciting ideas on how to make the most of them. Here are my top 12 wintertivities!
Recipes
I'll start by listing some fun, simple recipes you can make at home with friends and family. These recipes mostly require common household ingredients, a big pan, even bigger bowls, and a sweet tooth. Both recipes can  you warm and cozy this winter.
Short-n-Sweet Cinnamon Apples
Ingredients:
8 apples (sliced)

2 tsp of brown sugar

1 tbsp of cinnamon

2 tbsp of cornstarch

2 tbsp of maple syrup

¼ cup of water
The provided ingredients are enough to make eight (8) portions. This is a pretty straightforward recipe, so let's dive right in:
Preheat the oven at 350 degrees.
Clean your apples! And feel free to peel them too.

I like to leave the skin on my apples just because it's quicker and more convenient for me, but feel free to make this dish your own.
Slice them.

Doesn't matter how thick or how thin.
Throw all the ingredients in a big, BIG bowl.

Yes, all in one bowl.
Mix it up!

This is it; the hardest part. You've got all the apples, sugar, cinnamon, cornstarch, syrup, and water in one bowl and now it's your job to try and mix them together without creating a mess!.
Put it in a big pan.

You're almost done. Now, just pour everything into a decently-sized, oven-safe pan.
Let it bake for 35-40 minutes.

Or until the apples are soft enough for your liking.
Enjoy!

You

could

let them cool first, but I prefer them nice, hot, and fresh out of the oven.
Mulled Cranberry Cider
(If you would like to use this cider for a party or family gathering, triple each measurement and use a 64 oz bottle of cranberry juice.)
4-5 cups of cranberry juice

1 orange (sliced)

4 tbsp maple syrup

Fresh ginger

1 star anise
These ingredients are enough for eight (8) servings. One serving is equal to eight ounces. This refined, savory cider is perfect to get anyone in the winter spirit; whether it's a cozy, snow day accompaniment or the highlight of your gathering.
Add the raw ingredients to a large, stove-safe light.

Yes, all of them. In no particular order.
Add your cranberry juice.

Just pour it all in at once.
Place the pot over heat and stir!

Don't stop stirring unless you want your ingredients to stick.
Bring the cider to a boil and remove it from the heat.
Enjoy!

Best served piping hot.
Mindfulness
With the snow falling in fluffy, thick layers outside your bedroom windows, snow days can be therapeutic. They are the perfect opportunity to relax and regain that lost sense of peace.
Write a Letter
There's no wrong way to write a letter. Physically writing one, however , allows you to get  your emotions out whether they be positive or negative. Handwritten stationary also adds to the winter festivity.
A snowy day could be the perfect time to craft some snail mail for a distant relative or even your best friend. It does not have to say anything important! You can simply write an "I love you" and add some personality to the page by drawing a border or adorning the corners with your favorite stickers.
Don't have anyone to send a letter to? That's fine. Write a letter to yourself— past or present. Write an affirming letter full of your future goals. Write out a letter of your feelings. Write about any progress you've made in any area of your life. The main goal is just to have fun and get in touch with your emotions. No more putting them off. You can crumple up this letter and throw it away if that helps, but at least set them free and get them out of your system.
Light a Candle… or Five
This may not be the best option if you are highly clumsy or accident-prone, but if not, lighting a candle can help set the perfect environment for peace, prosperity, and success. Pick a fragrance you like and set it up in a comfortable place where you can lay back and kick your feet up. If one is not enough, light as many as you need to. Just be sure that any candle you set up is a safe distance from all flammable objects.
If candles are a little too hardcore for you, a diffuser is a great alternative. Not only are they less of a fire hazard, a diffuser allows you to create your fragrance and you can change it as frequently as you want.
Pick up that Book Collecting Dust in the Corner
Yes, I know, there is so much homework that anything with a spine and more than twenty pages reminds of school, but that book you were supposed to read months ago wants its time to shine. In most cases, that book deserves more attention than the ones you are assigned— not that those are not important as well. But reading just a few pages of a non-school related book will not hurt you and by the end, you can say that the cover's a little less dusty.
Clean, Organize, Plan
While cleaning may be a stressful feat for some, I have found that it is one of my favorite things to do whenever I have a day to myself. When you are stuck in the cycle of "school, work, sleep, repeat", the little things fall to the wayside. So, take time to reset your surroundings. Clean up your room, put away some laundry, reorganize your desk, sort out your planner; do whatever you need to do to refresh your environment. You may not want to at first (and I often don't), but once you do, your space will look larger  and neater, and you'll be glad that the prior mess is no longer is a problem.
Fun
Indulge yourself in the freedom of the season!
Get Knitting!
With a new year ahead of us, these snow days are the perfect time to pick up new hobby or continue an old one. Make some hats, scarves, cardigans, blankets; whatever your heart desires! And they don't have to be perfect or even wearable. The point is that you tried something new.                            
Decorate Ugly Sweater Cookies
This one is twice as funny because not only do you get to bake cookies, you also can make a mess of icing. If baking's not your thing, then you can buy premade, sweater-shaped cookies from the grocery store. To make activity even sweeter, make it a competition and face off with your friends or family for the title of Best Ugly Sweater Cookie maker.
Snowball Battle Royale
Gather up some friends and have a snowball fight to the death. Or maybe just until everyone gets too cold to stay outside. Build some barricades. Make a snowball slingshot and have some fun lodging frozen globes of condensation at each other.
Mega Winter Movie Marathon
Now is the time to settle down and remember all those movies you loved as a kid. They don't have to be holiday or winter-themed. Just make a quick list of some comfort films, press play, and let the day waste away. And no true movie marathon is complete without a pillow fort. Hunt down the softest pillows and blankets to keep you warm and cozy as the time flies by. 
Personally, I like to settle for old Disney favorites and animated films from when I was younger. However, there is equally as much fun in trying out random movies on a preferred streaming platform or watching a cable channel that only plays movies all day.
Online Window Shopping
Last but not least, my favorite and laziest past-time…online window shopping! There is no money, traveling, or actual spending required. You can stay in bed, rock your pajamas, pull up your favorite online store, and as many things as you want to your wishlist. If you are feeling bold, add some items to your cart. But the key to this activity is protecting your financial and spiritual wellness by closing the tab before you get the courage to buy anything.
Leave a Comment
About the Writer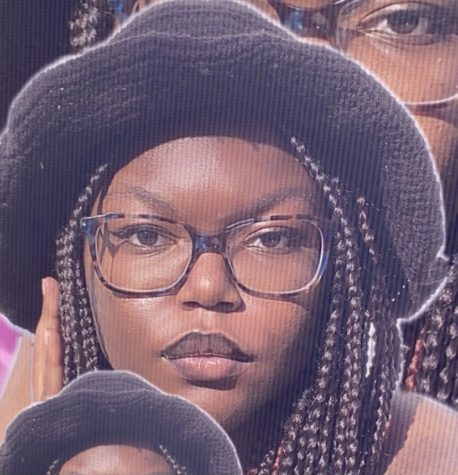 Jalyne Wise, journalist
Jalyne Wise is a Senior in the Literary Arts Prime at George Washington Carver Center for the Arts and Technologyin Baltimore, Maryland. At school, she...