K-pop artist does reggaeton / latin sound, A rhythmic bop or stylistic flop: Antifragile by Le Sserafim
"Urban Outfitters merged with Rosalia, " is the best way to describe this song. It's got a flavor of red spray paint and fine leather. Antifragile is lithe, yet intense on every edge. Antifragile carries itself high because it knows it deserves the recognition received, both by the general public and critical response. It is different in every sense from what we usually see in k-pop, from the music to the styling. It's all perfectly placed together to make a unique piece.
This song was mainly produced by SCORE who was credited for Advice and Criminal by Taemin and Le Sserafim's debut album Fearless. Latin producers Paulina Cerrilla (credited for Royal by IVE and MAGO by Gfriend) and Isabella Lovestory incorporated that unfamiliar sound to a k-pop song. The synth and strong bass of the song weaves through the chorus and adds the perfect translation between the rhythm and the vocals. I believe the zenith of the song is the rap. It's catchy and it fits perfectly into the song. The song defines addiction, being in your head when you least expect it to 
Having such representation, especially in the k-pop industry, seemed unlikely to happen. Previously, Hip-Hop and Rap, genres made mainstream and created by people of color, have been used by popular producers like Teddy Park,  have crossed the line between cultural appropriation and uncrediting. There was concern of this happening with Hispanic rooted music.  By 2018, groups were releasing a few latin beats but were unheard of or forgotten. Kard and G-idle are the first ones to come to mind, but their latin inspired songs didn't hit that broad spectrum and in my opinion, were stereotypical. Having latin producers make songs that actually represented what the majority of young, hispanic people listen to is reviving.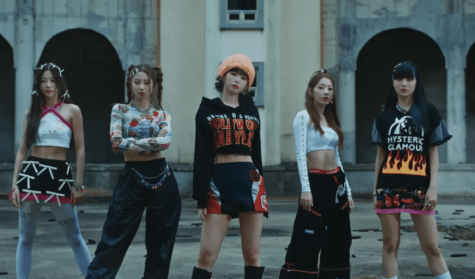 The Antifragile music video dropped on October 17th, 2022. Having been promoted well across all platforms, reaching millions of people who have loved the song, claiming it's evolutionizing Le Sserafim as a group, bringing in a broader audience and forming their identity as artists. The music video showcases an autumn color palette of ocean blues, red and yellows. They mix together with different pigment rates and under tones. They also throw in some vibrant colors of pinks, blacks and whites.An urban setting isn't unusual for a k-pop artist to use, but the way they transitioned scene from scene with  refreshing camera angles with a combination of early 2000's camera overlays is what made it unique. The camera work is what really grabs the audience. From one second the camera is focused on a mango, the next moment the camera is held by one of the girls, on a more grainy and homemade angle to the choreography of the song. 
The main symbol of the music video is an asteroid, which appears in the storyline of the music video from the beginning to the end. The settings switch from a crowded dominant room with green tints to an abandoned group of buildings and settings that are grim and cold. The most memorable setting was the one in the chorus, which displays a street, with neon signs, gasses and buildings in that recognizable ocean blue. Again, it felt refreshing, in a way they were unlocking a new identity and a way that people would view them. At the end, the metroid crashes on them just as they finish the choreography for the song, they come out the other side completely unaffected.  
A key part in this video is the styling. It feels very mainstream but somehow different from what is again, seen in k-pop. Common brands in the music video are Marc Jacobs, Nike, Balenciaga, GCD, Gucci and Prada. There's a style mix of fitness and solid-color-toned minimalism and indie/alternative maximalism which when combined balanced everything in the music video finely.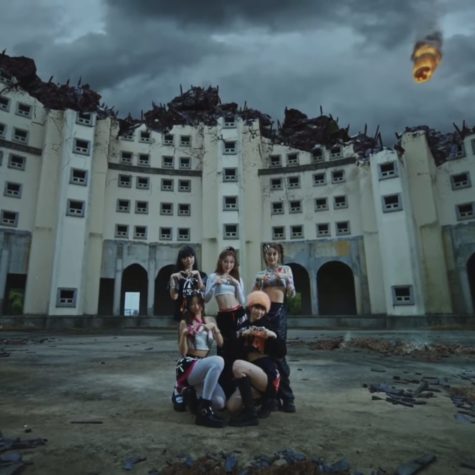 The garments the members were wearing were different from one another, they were each styled to express the set or the identity of the story line. In the intro there were all black fitness wear, green fur coats with thin dresses, and uniquely shaped earrings. As the video continues, we are introduced with orange, black and pink tones. They dominate up until the chorus. The first chorus presented the members wearing denim. Denim skirts, Denim baggy pants, Denim boots with Denim crop tops. It looked so good on them,  I felt emboldened to wear more denim, which would have never happened otherwise. The pairing was great, they seemed mostly comfortable and it melted perfectly into the background. We are not introduced to new outfits until the second chorus, which exhibits again, group coordinated outfits. They are all the solid colors of white and icy blue. They feel a lot more wintery than the last set of coordinated outfits. They perfectly contrast in warm and cold tones. Showcasing harmony. 
I remember when I first saw the teaser, I was not as excited. I don't think there was anything bland about the teaser, the camera angles were cool but I think over saturation in k-pop is a big issue that affects most fans like me. I think being really hyped up, then being disappointed or overwhelmed is expected so I didn't really analyze the little snippet of the song in the teaser. 
I do not listen to reggaeton on a daily basis, I used to dislike it but now I've become more neutral to it, listening to some artists like Rosalia and Kali Uchis.
 When I listened to the song for the first time I could automatically pick up the latin sound and I was really excited about it. The rap was so sticky, I automatically knew it would be repeating in my head over and over. I also went and saved the song in my library. I really feel like this comeback is the most memorable one for me this year and it's in my top 5 songs in K-pop for 2022. It's just abnormally good and I can't wait to see what they do next.