Why Can't the Class of '23 Raise Money?
The class of 2023 is currently struggling to raise money. No matter how many Mod Pizza days there are, or how long lanyards are being sold for, we can't seem to raise the money we need. Threats of increased prom ticket prices are becoming more and more frequent, with the projections hitting somewhere around $120. Still, there's a disconnect between the class's desire to decrease prom ticket costs and the need to participate in the fundraisers that will do so. 
There's a dysfunction here, and nothing's changing. In the few months leading to prom, what can be done to improve this situation?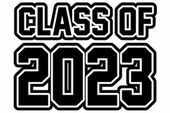 One of the biggest problems facing the class is the general lack of enthusiasm for these fundraisers. "The seniors do have a lot of costs regarding the events that are really important to us, but the fundraisers are not really interesting," says Alyssa Oppel, a senior in lit. This year's fundraisers have been relatively low key. Lanyards, Mod Pizza, Chipotle, and class merch sum up about all of this year's senior fundraising. 
Especially with merch and lanyards, students have cited their impending graduation as a reason not to purchase. "What would I do with a lanyard," says Dua Naqvi, '23, "I feel like they could do something useful." We don't use school ID anymore, and those with keys probably already have lanyards of their own. 
For acting senior Ryanne Coleman, she didn't make the purchase, her parents did. Parents are looking for mementos of their children's' high school experiences, while the students themselves are looking forward to college apparel. 
The fundraisers don't appeal to the school as a whole- they don't attract attention and support from other grades. Seniors participate because they feel they must, while underclassmen have no reason to. Creating new, exciting fundraising events that entice the younger grades to attend would boost our class's income.
In addition to the lack of enthusiasm surrounding the various fundraisers, seniors are citing the locations as a reason for skipping events. 
It's been four years of Mod Pizza events, a place that is difficult for many students to get to. "It's not accessible," says Amanda Amadi-Emina, a literary senior.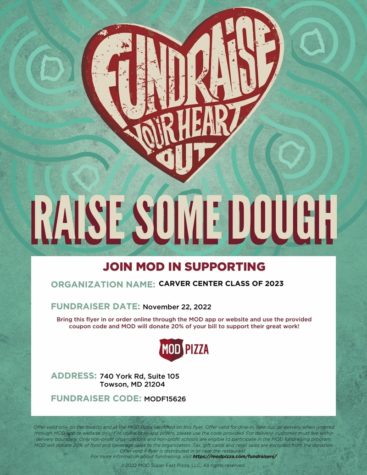 Carver Center accepts students from all over the county, meaning that a majority of students depend on buses to get to and from school. Since most of the fundraisers occur in Towson, a lot of students just can't get the transportation. "My problem is that I just can't go to them," explains Camilla Chakir, '23. Fundraisers that take place online, in school, or in various regions of the county would help to make sure that everyone has the opportunity to support the class, rather than limiting everyone. "They need to branch out into different places," says Dua, "Towson isn't convenient for everybody."
Tensions are rising between the officers and the student body. This Monday, Jan 9th, was another class meeting. Students noted that the ten-minute PowerPoint was taking away from important time at the end of the quarter while the officers tried to impress on everybody that tickets will be expensive if nothing changes. It seems that nobody can win in this situation; any attempt to rouse the seniors is scorned, but the class remains disinterested in participation.
For everything that might be unsatisfactory about the fundraising, we must applaud our class officers for what they have been able to accomplish. Fundraising through COVID-19 was not easy. "We are in much better shape than last year's seniors. They were in debt. We have money," says Amanda. 
As time ticks down to prom, which is about four months away, we enter crunch time. Hopefully the class can come together and find a way to drastically reduce ticket prices.
Leave a Comment