Senior Spotlight – Ryanne Coleman
Is there anything that Ryanne Coleman can't do? A superb actress, genius, stellar basketball player, and loyal friend rolled into one, Ryanne might just be the best person ever. She's one in a million. 
Let's start with what got Ryanne this nomination. Ryanne was nominated as an Unsung Hero of the acting prime, with whom she has worked closely for these past four years. One of her acting teachers, Mr. Diem, notes that she got this nomination because of her hard work, passion, and kindness. He says that she is a "glue member of the ensemble." According to Mr. Diem, Ryanne "never looks to be the star" and works towards the good of the group. Ryanne isn't here to pursue fame and glory, nor is she after popularity or good grades (even though she's managed to attain both). She works hard because she loves what she does. In sum, she's a hard worker, "always looking to do her job", concludes Mr. Diem. 
Acting students rave about Ryanne, not only for her talent, but for her dedication and personality. "Her acting is… it's very grounded and you can tell that she takes it very seriously and thinks about everything she's going to do before she does it," says fellow senior in acting, Nia Chavis. "She makes every line feel like a new discovery."
Not only is Ryanne an active actor, but she is an active member of the school community. She's a part of the BAC cabinet, helping to create powerpoints for meetings, organizing the recent field trip, and holding collaborative meetings. According to Nia Davis, "she really does care about educating the community." Ryanne is a member of Carver's English, Math, and National Honors Societies. Ryanne is also an accomplished student. She takes advanced level classes, even online CCBC courses. 
Ryanne's academic prowess is no secret. "She is ON IT, even after all her sports stuff," says fellow student, Tiara Aragon. She recounts an anecdote of their time in the same pre-calc class, where "Ryanne was always there to help me. She recorded audios and gave me pictures without me having to ask, all the time."
She recently committed to Howard University, where she will begin studying biology in the fall.
Ryanne is also a star basketball player here at Carver Center. As a vital member of the Women's Basketball team, she is loved and appreciated by everyone she plays with. "To me Ryanne is like my non-biological sister," says Megan Iwuoha, a junior on the team. "I can see the characteristics that I can see in my actual sister. She gives very good advice and is the most level-headed person I've ever met. Even when I'm low, she's there. Even when I act out of character she remains level-headed".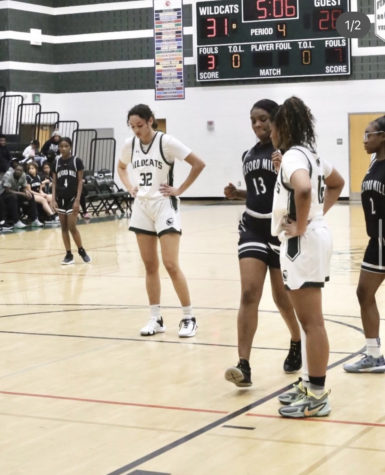 "I know she'll be successful in the future because she is a leader," continues Megan, another member of the team. Her eyes light up as she talks about Ryanne, affection seeping through every word. "She leads with her actions, not her words." 
Ryanne has helped to lead the team to many victories over the course of the season, earning herself a spot on the Baltimore County All-Star Team. 
It's not just her basketball teammates who love Ryanne. We're living in a Ryanne Coleman epidemic. "Ryanne is the sweetest soul ever to exist in the world," says Natalie Gaitan, a close friend of Ryanne's. Like Megan, Natalie notes that Ryanne always tries to take care of the people around her. "She always makes sure we're ok." Every time you bring her name up in a group of seniors, you'll get nothing but praise. 
In summary, Natalie said it best: "There's just too many good things about Ryanne that I can't single out just one"