You Bring Your Pet What?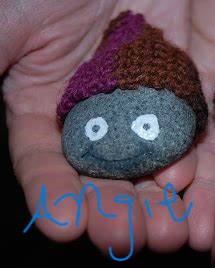 I came to Carver Center knowing that the school has a reputation for being accepting and for having an environment where people could feel comfortable being themselves. But I soon realized that's not the truth.
I've been getting weird looks every day since school started. It doesn't matter where I am. The stares follow me from class to class. Even the teachers look at me strangely! No one really talks to me, and I have no idea why. Maybe it's something about my clothes, maybe there's something about my hair. Maybe it's my pet rock, Angie. 
I bring Angie with me everywhere I go, she's my best friend really, I dress her up for school and she gets ready with me in the morning. Like today, I put her in a hat I made for her since it was pretty cold out. She loves wearing bows, I have to fight with her to get her to wear anything else. She's really quite sweet. I thought she'd be well-liked at school, but no one ever acknowledges her. It's like she doesn't exist. No one ever says anything about Angie. I just wish people would try to get to know me and Angie, maybe if people saw who I was they'd want to talk to me more and be my friend. If I'm honest, Angie's been having a hard time with making friends too, when I take her outside at lunch none of the other rocks want to talk to her. Hopefully, things will start to look up for the both of us.