Unsung Hero of DFA: Tanaydi Cosme Munoz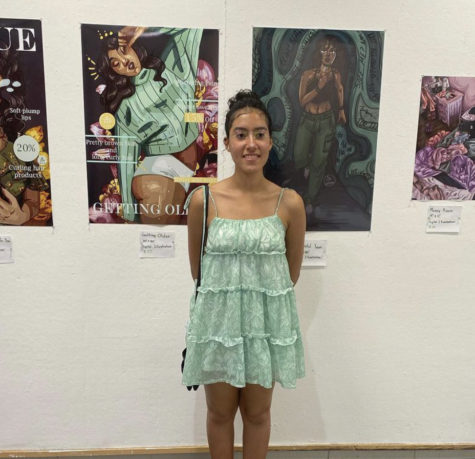 Art mimics life.
Specifically, Tanaydi Cosme Munoz's art mimics life as an adolescent, both the pros and cons of navigating her own coming of age as an Hispanic teen.
A Visual Arts senior taking both Digital Fine Arts and Figure/Painting, Tanaydi is an artist who pushes the constraints of Illustration within Fine Arts. Most of her work in both digital painting and traditional mediums like acrylic paint and marker take on an illustrative stye with saturated colors and active mark-makings to depict a dreamscape of everyday events/actions that reflects how she experiences the world while growing and learning.
Her digital painting "Getting Older" depicts herself as a Vogue cover model. She reminisces on her final year of high school
"For me as a Hispanic woman, getting older means a lot of things, and that I'll be facing many challenges as I keep growing up but that isn't to say it's all bad… A lot of my works contain a personal narrative on who I am as a person, how others view me, and how I deal with those perceptions of myself."
Tanaydi's Senior Showcase (May 4th 2022) was the culmination of all her work done at Carver Center from her highly illustrational digital work to acrylic paintings up to 6′ x 3′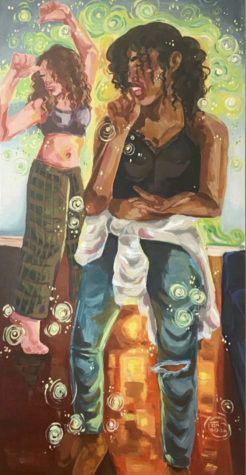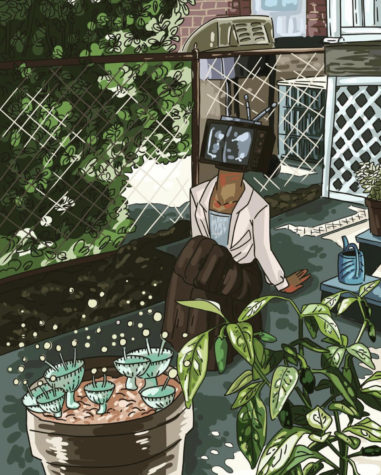 While soft-spoken, her presence is undeniable within the DFA class. When asked about Tanaydi, fellow classmate Alexa Moran shares "I've been in Tanaydi's [art] class since freshman year and seeing her development is inspiring." She emphasizes that she admires Tanaydi for being "unapologetically herself" from her refusal to give up her illustrative style, to her colorful statement outfits and graphic makeup she wears everyday. It's safe to assume Tanaydi is just as iconic as a person as her works of art.
The DFA teacher Anne Talman has the same view
"I love her compositions and the way she uses colors… her themes of perspective, you know the theme of how others perceive her or people like her comes across in all her works. She's a great student too, I can tell she's super organized and always puts effort into all her works, she turns them all on time… She's great to teach and have in the class this year"
From her classmates praise, her teachers delight, and the overall success of her illustrational work. Tanaydi has promise, confidence, and the organization to be successful in any avenue she chooses. And she will be continuing her work at Maryland Institute College of Art for Animation.